How to find the most cost-effective game machine ?The first chapter- Go Fishing
Time : 2014-08-05 16:04:24
How to find the most cost-effective game machine ?The first chapter- Go Fishing
With the increasingly fierce game machine market competition, many game machine manufactures in China are developing very similar games one after another. But how can we choose the most cost-effective one from these competing products? This article is helping operators and buyers to know more about these similar game machines.
The first Chapter: Let us find the most cost-effective Go Fishing tickets redemption game !
Here we choose 3 similar games: Pirate Hook., Go Fishing, Little Bear Go Fishing for comparing.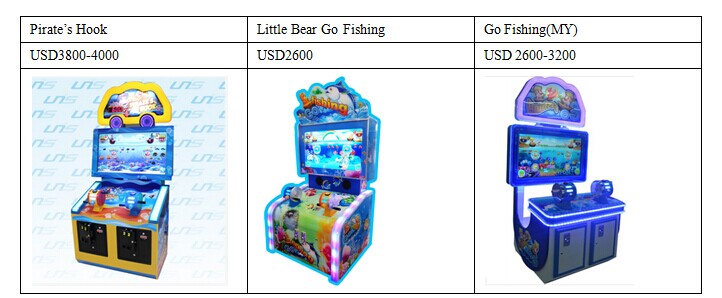 Pirate's Hook:
Pirate's Hook is from UNIS, and it is the first game machine which use reel to catch fishes. UNIS is one of the biggest FEC game machine manufacturer in the world and the quality is reliable.,so we do not need much words to describe the machine because it has sold to many countries and displayed in many exhibitions in last several years. The price is around USD4000, much higher than other two competing products. Buyers who care about brand can choose this one.
Little Bear Go Fishing:
We usually call it Go Fishing. It is developed in the end of 2013, and the software is from the same engineer of the Pirate's Hook. (The engineer left UNIS last year and started his own factory.) So the quality is trusty, too. The background music and graphic can compare to Pirate's Hook,too..And the game machine manufacturer said the parts are all from the same suppliers of UNIS, and the price is the most competitive in the 3 similar go fishing game machines. The reel is upgraded from Pirate's Hook so it is said better than Pirate's Hook. Also the manufacturer accepts OEM service. So buyer who wants to make their own brand can choose this one.
Go Fishing(MY):
Compare with other two, this machine's cabinet is a little different. The design looks more attractive. But the nice game cabinet has a disadvantage that is not good for the PC computer's cooling because the space inside the machine is smaller. The price fluctuation is too big and it is not good for distributor and agent. The graphic looks nice. Buyers who need nice cabinet can choose this one.
Conclusion: comparing this three similar games, the Little Bear Go Fishing is the most cost-effective game machine. If the parts are from the same suppliers of the Pirate's Hook, this game is worth testing.
Want to know more about Little Bear Go Fishing,please visit:http://www.apagame.com/Go-Fishing
Contact Us
Tel.:0086 020-31199936
Add.:A503A,Shangmao Square,Xinsuikeng,Shixin Road, Panyu District,Guangzhou,China
Email:sales@apagame.com